Standing labor postures keep you active and moving, which helps to facilitate baby's decent and rotation though the pelvis. These postures also help you to manage pain.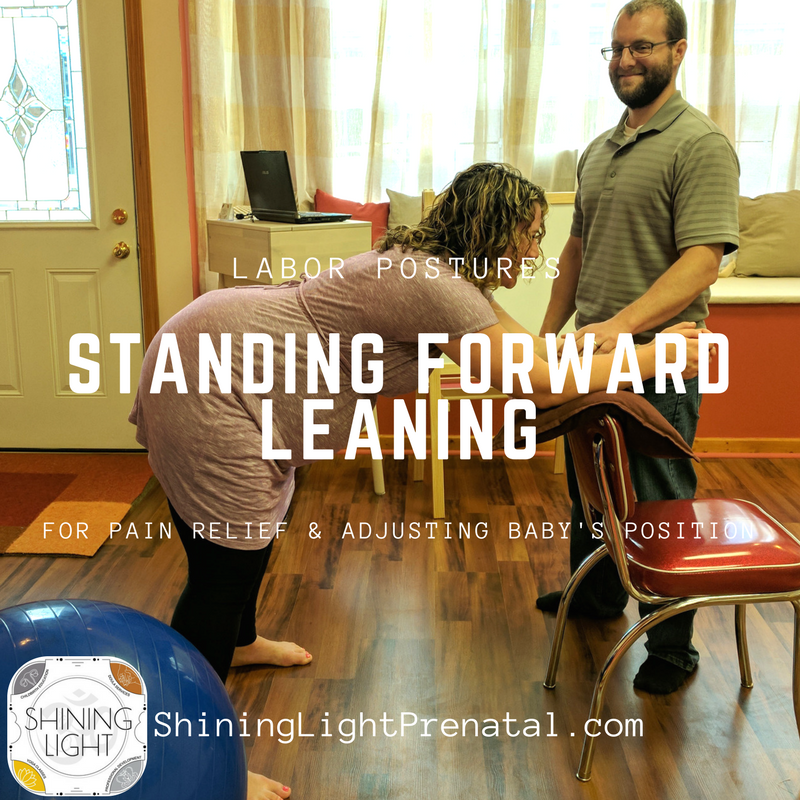 In all phases of labor, before pushing, it's generally better to be active and upright during contractions. Standing and leaning over something, in this case a chair, allows you to manage your contractions in a productive manner.
Amy could also be on her hands instead of her forearms. That would give her a different angle of her back and pelvis. Whichever option feels right at the time is the one that should be used.
Josh, has a gentle hand on Amy's arm and is making eye contact with Amy. His quiet presence keeps her calm and feeling like he's engaged in her labor.
Pro Tips
If you notice, Amy has her forearms on a pillow. This is an easily accessible tool that makes a huge difference for comfort. A little padding goes along way.
Walking in between (or even during!) contractions is an added bonus to standing postures. Walking, in and of itself, can be enough to manage pain and facilitate baby's movements through the pelvis. It's easier to walk between contractions, if you adopt a standing, forward leaning posture during contractions.
Check out the rest of the labor posture series with Josh and Amy:
Want to know more?
In, Confident Birthing, my Lamaze class, we go over these labor postures and a host of others to make you more comfortable, speed labor along and teach your partner how to best support you during birth.
Can't make a group class? Private childbirth classes are available either in-person or via Skype to get you ready for baby.