In part one of this series, we talked about standing postures, with the birth ball (i.e. exercise or yoga ball) on the wall. Here, we continue beyond the seated postures and move into kneeling and using your ball.
Kneeling, in a modified child's pose, leaning over the ball.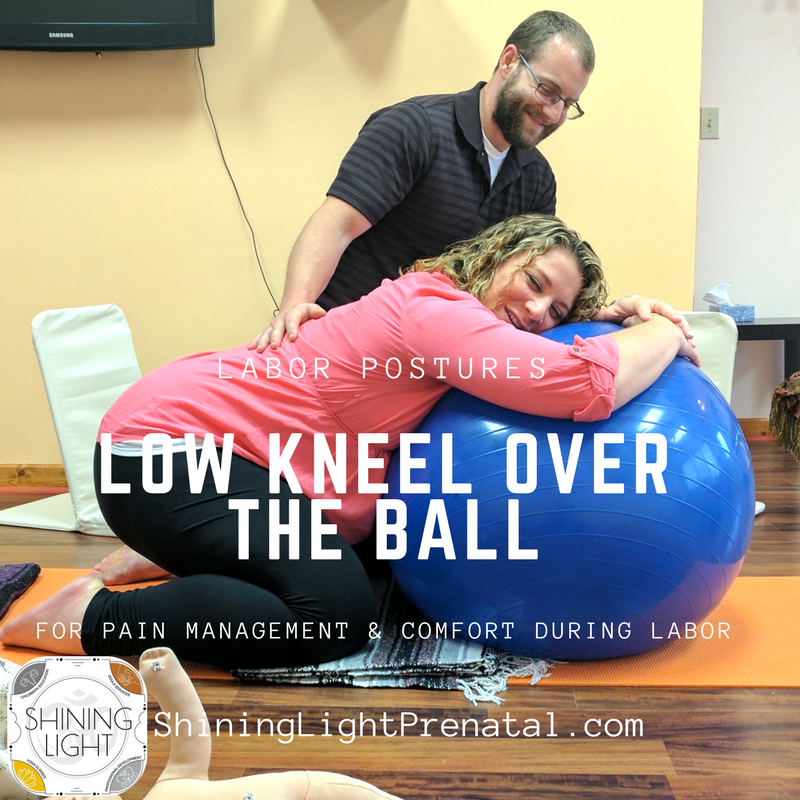 Josh and Amy are the models here, in our studio. They are demoing the posture on the floor, however, in a hospital setting, I would put the ball on the bed, with the guard rails up, and kneel over the ball there. Hospital floors aren't the best place to be kneeling, even with pads on the floor.
This modified child's pose is a restful posture that provides baby with room to rotate to the optimal position for birth. Her knees are wide which allows for her pelvis to open. It's one of those positions that is a squat variation. Amy can choose to rock or bounce on the ball if she needs to add movement to manage labor pain.
If she's able to sleep during labor, this position is a forward leaning, productive pose which permits sleep while passively helping baby find his or her way out.
Kneeling, in a modified hands and knees pose, leaning over the ball.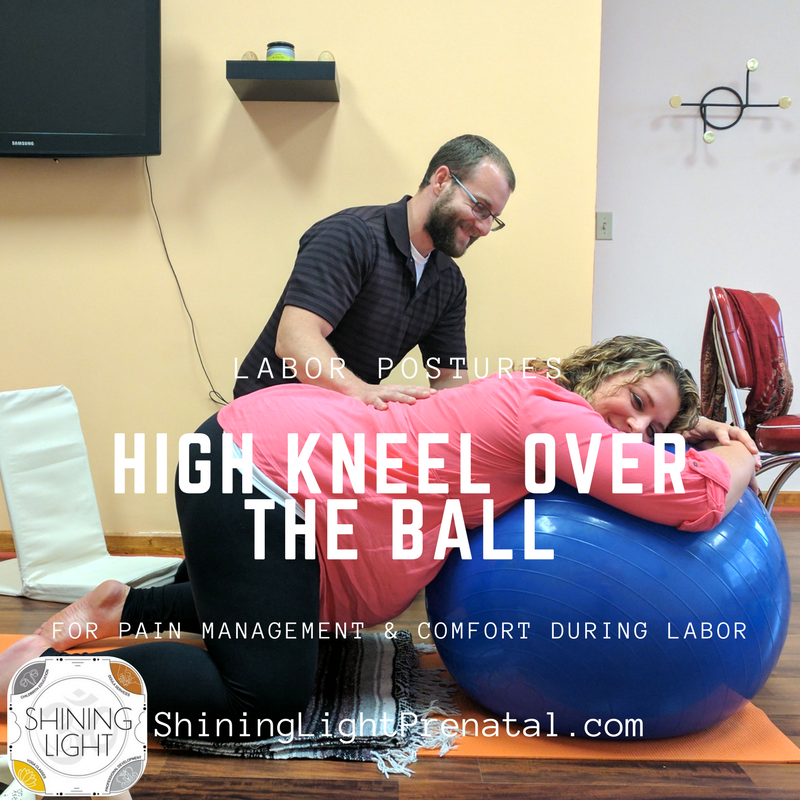 At first glance, this pose doesn't seem much different than the one above. However, if you look, you can see that Amy's hips are in line with her shoulders. This is a hands and knees variation that allows her wrists and shoulders to rest while she is able to rock, bounce or move forward and back on the ball. The movement helps with pain management as well as helping her baby rotate to the right position for birth.
In both positions, her husband Josh can help mitigate her discomfort with touch or massage. If her ball is up on the bed, he can be standing or sitting next to her, which may be more comfortable for him.
Pro-tips
These positions can be done at home or in the hospital or birthing center. They can be done on the floor or in bed.
Ensure your ball is the right size for your height. A ball that's too big or too small may not be comfortable or safe for you.
Once at the hospital or birthing center, always check with staff to be sure you and baby don't have any complications that would preclude the use of these positions.
If you choose an epidural, you may be able to do these positions in bed. You would need to check with your hospital staff about the feasibility, however. Some epidurals may be too heavy to allow for such positioning. Some hospitals, for reasons of liability, may disallow use of the ball after an epidural has been inserted.
Want to know more?
In, Confident Birthing, my Lamaze class, we go over these labor postures and a host of others to make you more comfortable, speed labor along and teach your partner how to best support you during birth.
Can't make a group class? Private childbirth classes are available either in-person or via Skype to get you ready for baby.
For those moms who've been there, done that, tell us in the comments below how you used your birth ball in labor.