I'm a big fan of labor postures that involve a mother kneeling. Though we can get the same benefit from standing postures that are similar, the kneeling versions avoid the issues of balance, potentially falling, fatigue, sore feet, etc.
I'd encourage moms, if they are in the hospital, to kneel on the bed, as opposed to the floor. I find hospital floors to be, well, icky. Feel free to bring a cheap yoga mat into the hospital if your preference is to labor on the floor like this.
Supported Kneeling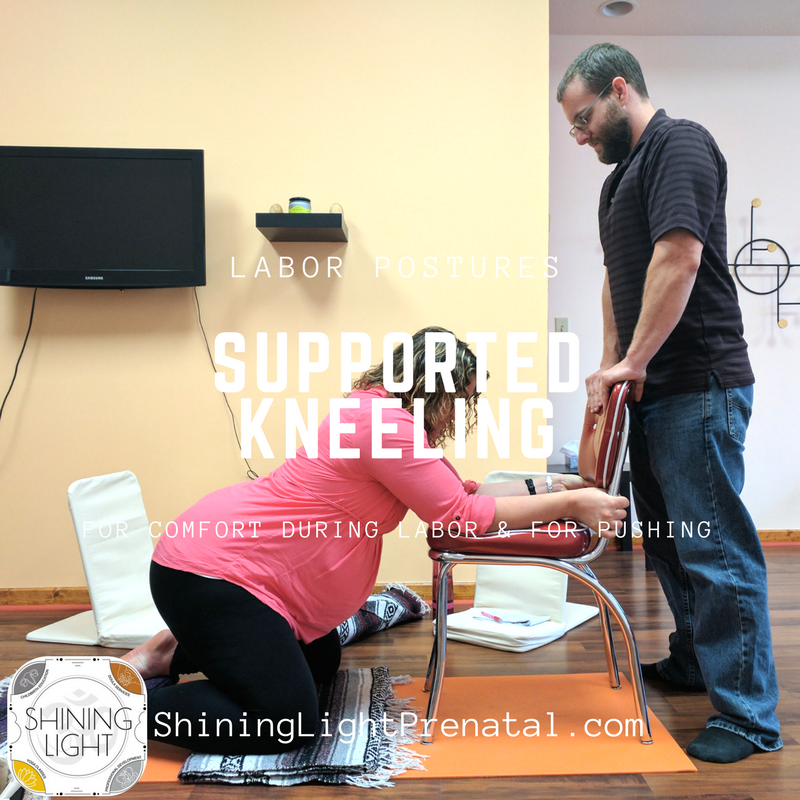 Notice that Amy's knees are wide apart and her feet come a bit closer together. This helps open the pelvis to make more room for baby to descend.
She's leaning her elbows on the chair (or back of the hospital bed) so she can find more rest in between contractions. She could also rest her head down, if need be.
She has the ability to move her hips as she sees best. She can rock, sway, pelvic tilt (cat/cow), or move forward and back. All of this gets baby moving and helps to manage pain.
Pushing
This is a stellar pushing position. If Amy has an epidural, she may not to be able to utilize this one. Here, Amy is gravity positive and can use her arms to pull which engages her core so she can push more effectively. Her doctor/midwife would catch the baby from behind her.
Supported Low Lunge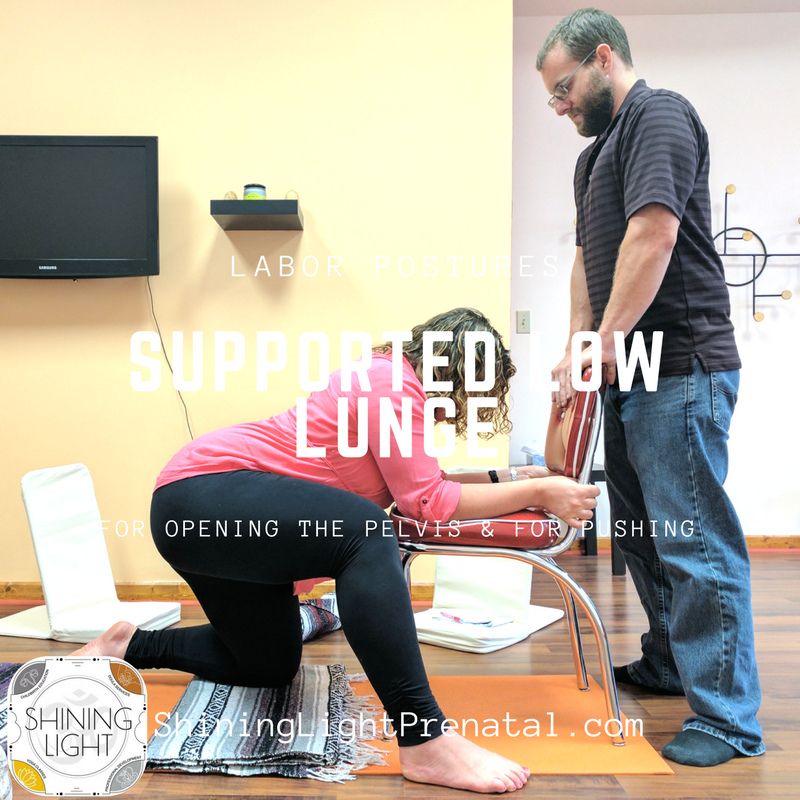 When in doubt, lunge.
It's true! Asymmetrical postures get sticky babies out. 
Here, Amy has one leg forward and wider than hip distance. She can rock back and forth which will maneuver baby into a better position for labor and birth.
All of the details above for the kneeling posture apply here too! And yes, she can push and birth here too.
Supported Side Lunge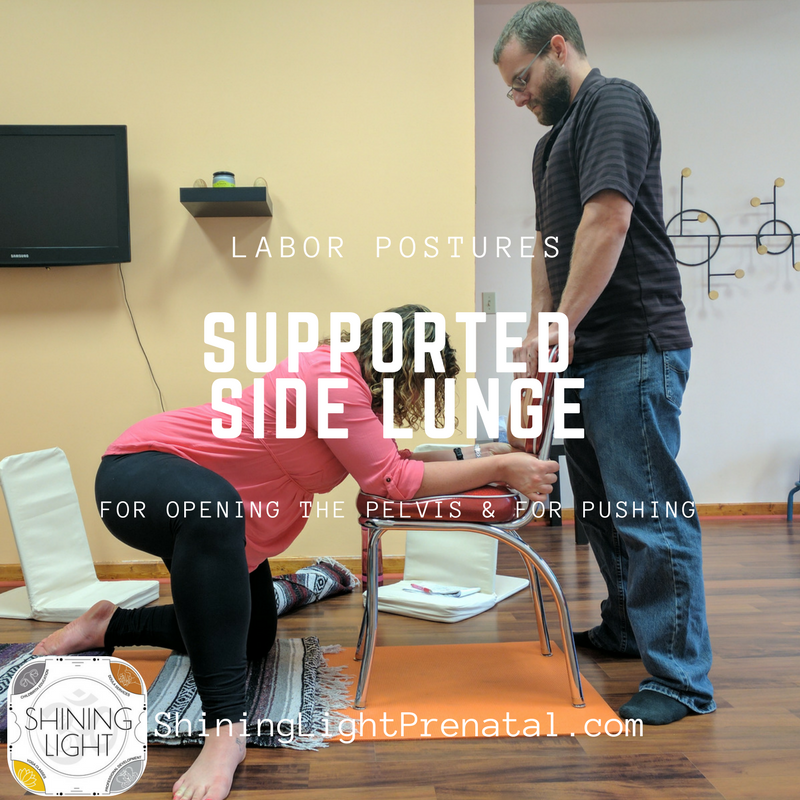 So, this lunge is a bit different than the forward lunge. Do you see how Amy's foot is turned out at ninety degrees? Well, so is her leg at the hip. That external rotation, which puts her right leg perpendicular to her left changes the shape of the pelvis and surrounding muscles internally.
She can slide knee towards toe and back again, side to side to encourage baby to move and to make herself feel better.
Remember, if labor isn't progressing and baby is in a funky position, lunges help!
All of the details above for the kneeling posture apply here too! And yes, she can push and birth here too.
Supported Half Squat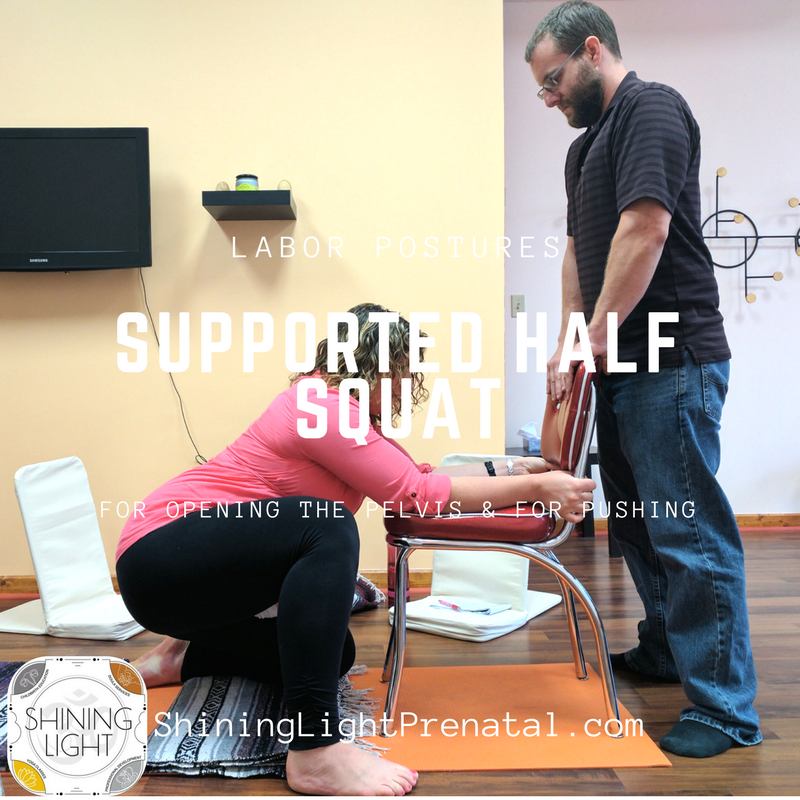 This looks a bit like the forward lunge, but if you notice, Amy's hips are over her back heel and her back knee is bent strongly. The lunge is hip over knee on the back leg. So, this is a similar, but all together different posture.
I'm a huge fan of squats (I do teach yoga as well as Lamaze). A half squat is usually easier than a full squat, especially for those who have a knee issue on one side.
This position, again, offers baby more room to rotate and descend as it changes the shape of the pelvis differently.
She can move forward and back or a bit to the side. She can lift her hips up and down. All of which reduce pain and move that baby.
All of the details above for the kneeling posture apply here too! And yes, she can push and birth here too.
Pro Tips
If mom is on the floor, take padding under the knees. An extra blanket (or two), pillow or folded yoga mat go along way to make these postures more comfortable.
Remember, in hospital, the bed may be the better location for these postures.
If you have a tub large enough, all of these will work in water as well.
Check out the rest of the labor posture series with Josh and Amy:
Want to know more?
In, Confident Birthing, my Lamaze class, we go over these labor postures and a host of others to make you more comfortable, speed labor along and teach your partner how to best support you during birth.
Can't make a group class? Private childbirth classes are available either in-person or via Skype to get you ready for baby.