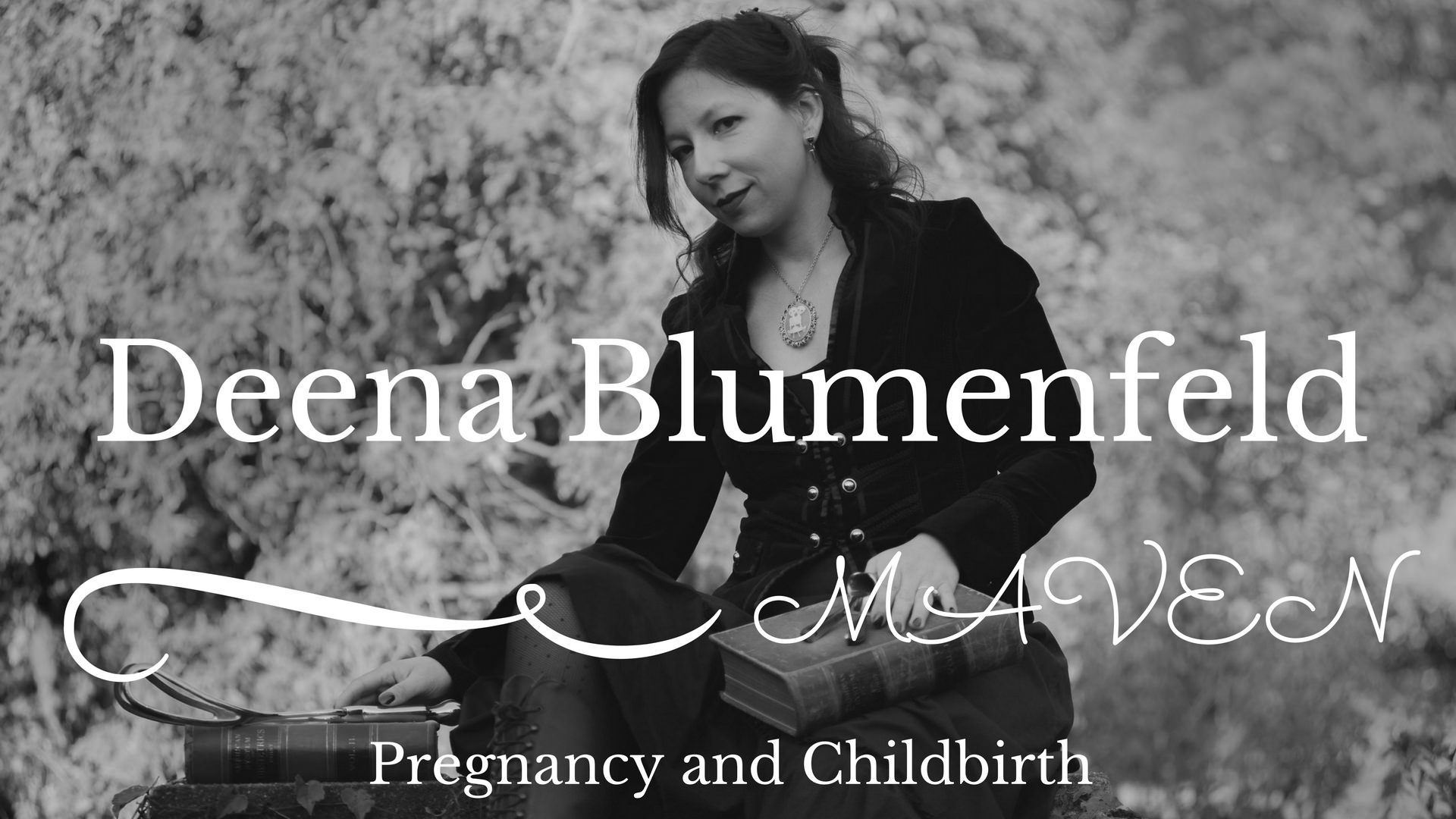 Deena is Your Pregnancy and Childbirth Maven
Maven – from Yiddish meyvn, from Hebrew mebhin, literally "one who understands."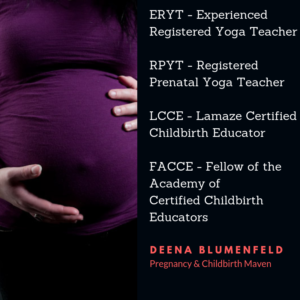 Deena Blumenfeld ERYT, RPYT, LCCE, FACCE… yeah, I know, that's a lot of letters after my name. They mean I really do know my stuff. Equally as important as those letters, is what I've learned from the mothers with whom I've worked. After ten years and 2,500+ pregnant mothers, I get it. I understand what moms and their partners need to have a good birthing experience and what they need to enter parenthood with grace and confidence.
I've listened with empathy to what my clients tell me when they are trying to get pregnant and struggling with fertility issues. I hear their doubts, their fears and their hopes. I've cried with them when their periods arrived unwanted and I've rejoiced with them in their pregnancy successes.
I've worked moms who took their pregnancy test that morning and are over the moon with joy and apprehension as well as moms who were surprised by their pregnancies and whose partners were not as supportive as the mother might have hoped.
I've helped guide moms through first pregnancies and through sixth (yeah, you read that right, sixth) pregnancies.
I've supported mothers though natural childbirth, inductions, epidurals and through planned and unplanned c-sections.
I've helped moms have successful VBAC births and confident repeat cesarean births.
My clients have been married, partnered, single, LGBTQ, poly families, ages 17-47 and anyone else you can think of. I've worked with photographers, tattoo artists, pastors, lawyers, chefs, social workers, physicians, local professional athletes and people of many other professions.
I understand your needs. I get it. Your path is always your own. Let me be your light, shining on your path to parenthood.
The Details: I've been working with pregnant moms and their partners since 2008 as a Prenatal Yoga instructor, 2009 as a birth doula and 2010 as a Lamaze Certified Childbirth Educator. Shining Light was founded in late 2011. In 2015 I became a program director for Lamaze, training new childbirth education professionals. In August 2019 I begin my studies for my Master of Public Health (MPH) in Behavioral and Community Sciences (BCHS) and a Certificate in the Evaluation of Public Health Programs at the University of Pittsburgh. I will graduate in May 2021. I'm also a mom to an elementary school aged daughter and a middle school aged son.
My full professional bio and CV can be found here.