Next up in our series with Josh and Amy is a seated labor posture which is a perennial favorite. It allows dad or the birth partner to sit down and allows the laboring mom to rest as comfortably as she can with the touch of her partner to comfort her.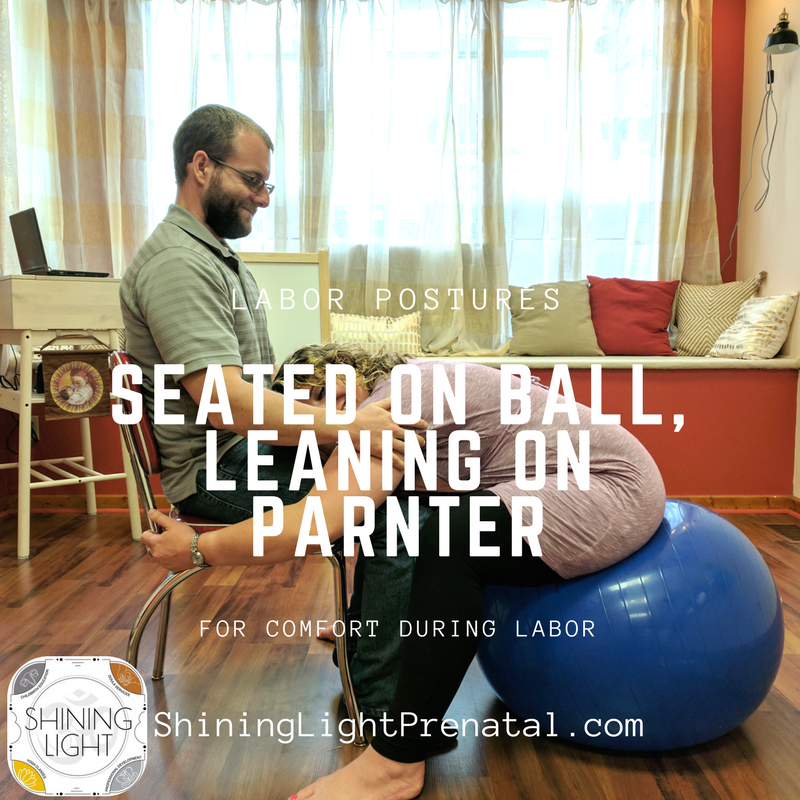 Here, you see Amy sitting on her ball in a very forward leaning position, resting her head on a pillow in Josh's lap. This allows her to meet all of the key components of labor comfort techniques while in a very restful position.
Here, she can rock, bounce or sway on the ball with minimal effort.
She can safely close her eyes and tune out of the room and tune into her body.
By adding more pillows to Josh's lap, she can lessen the incline at which she rests. So it's a height adjustable posture.
Josh can massage Amy's head, neck, arms, shoulders and most of her back easily. He gets to sit and relax too which is good, as labor may be long and a rest for dad/partner is a good idea too.
Pro-tip
This can be modified to have Amy lean over her bed and have Josh massage her from behind. Tennis balls on her glutes and thighs can help reduce pain and loosen tight muscles.
Check out the rest of the labor posture series with Josh and Amy:
Want to know more?
In, Confident Birthing, my Lamaze class, we go over these labor postures and a host of others to make you more comfortable, speed labor along and teach your partner how to best support you during birth.
Can't make a group class? Private childbirth classes are available either in-person or via Skype to get you ready for baby.