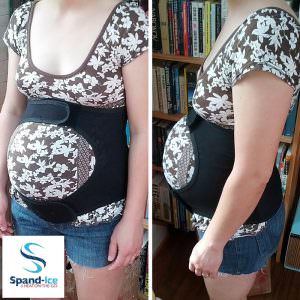 We will have a new product for you to test after all of our Prenatal Yoga classes this week. It's  a great wrap for back pain relief.
Spand-Ice
specializes in designing thermal therapy and compression clothing for back pain relief, inflammation and muscle soreness. They are currently designing a new maternity wrap version to help pregnant women get back pain treatment + support throughout their pregnancy.
The new maternity wrap uses hot or cold therapy into insulated pockets targeting the lower and mid back pain area. Two powermesh straps wrap around your belly (one under the bustline, the other under the belly) adding compression + support exactly where you need it.
There are a few, limited wraps available before they go into full production. If you are interested in purchasing one, please email
Helen
directly.
If you'd like to stay an extra few minutes after this week's prenatal yoga classes, you are welcome to try on a wrap and see how it best suits you. This is only for classes 5/3 – 5/7