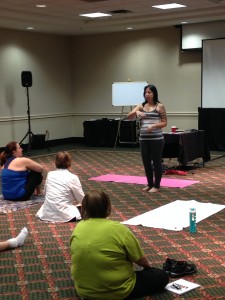 Last Friday (Sept. 19) I taught two sessions at the Lamaze DONA Conference. I taught both a morning Prenatal Yoga session and an afternoon small business session. I had some fantastic feedback from all of my session attendees. There were 39 attendees at morning yoga and a bit more at the small business session. Amazing!
After the yoga session was finished, a number of the attendees were asking about that "Pelvic Floor Breathing thing". This is something I teach in all of my Prenatal Yoga classes as well as in Confident Birthing, my Lamaze class.  I was politely badgered about a video for this for the rest of my time at the conference. So, here it is!
This video is intended for both pregnant women and for childbirth educators, doulas and other birth professionals. I hope that my colleagues will share this video with their students, clients and patients to help them better build awareness at the pelvic floor and learn how to push more effectively during labor.