Frequently Asked Questions:
Q: What makes this prenatal yoga teacher training different from other prenatal yoga teacher trainings I might find?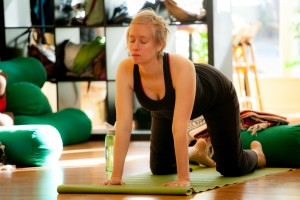 A: This training will not only cover the asana, pranayama and dhyana for pregnancy, fertility and postpartum, but it will also delve into the social and emotional components of pregnancy and birth.
As prenatal yoga teachers, we are very high-touch with our students. We see our pregnant mothers weekly throughout their whole pregnancies and often develop trusting relationships with these mothers. Mothers often open up to their prenatal yoga teachers and to other students in class about what they are going through during their pregnancies, their fears and their wishes.
As prenatal yoga teachers we are in a unique place to influence not only a mother's physical preparation for birth (and her recovery) but her social and emotional preparation (and recovery) as well. This training will prepare you to be a guide for pregnant women on their journey to motherhood.
This is the only complete Yoga Alliance approved 85-hour Prenatal Yoga Teacher training whose primary teacher, Deena Blumenfeld,  is a Lamaze Certified Childbirth Educator (LCCE), Lamaze Trainer and Prenatal Yoga Instructor (E-RYT & RPYT). 
It is the only Lamaze International approved Prenatal Yoga Teacher Training.  It is approved for 65-85 CEUs.
It is the only Prenatal Yoga Teacher Training in the world which is approved* for Lamaze International's continuing education credits (see below for details).
It is also the only comprehensive, intensive 85 hour RPYT training within a 4 hour drive (in any direction) of Pittsburgh, Pa.
Q: I'm not a mother. I've never had children. Can I still teach prenatal yoga?
A: Yes! Motherhood is not a prerequisite for teacher training. Compassion is a prerequisite. If you have compassion for pregnant women and you have a wish to support women through this transformative life-stage, then yes, you can teach prenatal yoga.
Q: What type of certification will I earn at the end of your training and is it recognized by Yoga Alliance (YA)?
A: If you are already a yoga teacher and you complete the 65 in-classroom hours, the 10 hours of class observation and the 10 hours of student teaching, then you will qualify for YA's RPYT (registered prenatal yoga teacher) status. You will still need to submit your application and registration fee to YA after completing all of the requirements. 
Q: If I live too far from Pittsburgh to come in for the 10 hours of class observation and the 10 hours of student teaching is there an alternate way for me to meet these requirements?
A: Yes! We want to make sure that everyone has the opportunity to complete the training program. You will have the opportunity to observe classes when you are here in Pittsburgh. If you are too far to travel to Pittsburgh for class observation you can observe prenatal yoga classes taught in your city by another RPYT. If there are no RPYT's in your community, please talk to us directly and we will make appropriate arrangements for you. Certain prenatal yoga DVDs may also be viewed for observation qualifications.
Student teaching can be done in Pittsburgh at Shining Light Prenatal Education. If you are unable to teach one of these because of the distance to travel you have 3 options. 1. Film yourself student teaching a yoga class and send it to us for approval (30 mins +) and submit 10 written class outlines. 2. Find a local studio (or other location) at which you can student teach donation classes. Request that students fill out an evaluation form. Submit all evaluation forms to Shining Light. 3. A combination of options 1 & 2.
Q: If as a childbirth professional I take the program, will I be certified to teach prenatal yoga?
A: The short answer is no, you will not be certified to teach prenatal yoga. You must have an appropriate background teaching yoga before you can teach prenatal yoga. (see below for the prerequisites)
Q: So, if it does not certify me to teach prenatal yoga, why as I childbirth professional would I choose to take the program
A: To become better at what it is that you currently do and to have a deeper understanding of the physical, emotional and social needs of pregnant women. Supporting women through pregnancy and birth is more than just being there at her birth or teaching a childbirth education class. As professionals, we need to have a deep understanding of the physiology of the pregnant body (why does she have back pain, anyway?) so we can better help her manage the little and not-so-little challenges of pregnancy. We need to understand the body mechanics of movement and how that can help (or hinder) a woman's birth. We need to have the ability to teach appropriate and effective breathing and relaxation techniques so that a laboring mother can utilize these techniques to ease her labor discomforts. We also need to understand how and why the social environment of a woman's pregnancy impacts her perception of pain and of birth so we can better help guide her into confidence. This training provides all of the above, and so much more. 
Q: Does this training qualify for Lamaze continuing education credits (CEU)?
A: Yes!!! It's approved for 65 CEUs depending on which track you choose to take.
Q: What are the prerequisites, so I can be certified to teach prenatal yoga?
A: You need to be a Yoga Alliance RYT 200, 300 or 500 hour (or equivalent certification from another yoga certifying organization); have a personal home yoga practice; at least 1-2 years yoga teaching experience.
Q: If I'm coming in from out of town, what hotels are nearby?
A: The Hampton Inn, Courtyard Marriott Shadyside and the Springhill Suites Pittsburgh North Shore are the three closest hotels.
Q: I'm breastfeeding my baby. Can I bring the baby to the training?
A: Babies-in-arms are welcome to attend the training with mom. Crawlers (and older) should stay home with a care giver. We do have a private space where you can pump if you need to.
Q: Where can I find the full information about the prenatal yoga teacher training?
A: Just click here for all the details!
Q: How can I register for the prenatal yoga teacher training?
A: You just click here!
[gravityform id="7″ name="Prenatal Yoga Teacher Training"]