As promised, here's birth story #1.  This is how I wrote it, in the week after his birth.  It's interesting reading it with my childbirth educator eyes.  I'll comment on the birth story at the end of it.
Looks like today is the day!  April 16, 2005
My water broke at 8:30 this morning. So, why you ask is she posting and not on her way to the birth center? No contractions yet. I'm in the minority of women who's water breaks before labor starts. So, now we sit at home and wait to see what happens. According to the midwife, I should start labor within 12 hrs – regardless I should give her a call this evening to see where we're at.
So, to start my birth story – I got up about 8:10 to go pee.  Then about 10-15 mins later I needed to poop.  So, I got back on the toilet.  I (sorry if TMI) pushed because I'm a wee bit constipated and I felt a POP on my right side towards the back.  Then there was this HUGE gush of water.  I knew it wasn't pee since I had just peed 10 mins before.  It kept leaking (is still leaking now).
By 10:30 am, my contractions started.  They were irregular and mild for a long time.  I did laundry and dishes, while Dan did other house maintenance stuff.
2:00 pm – the contractions were bad enough to make me control my breathing and bend over onto the arm of the couch.
3:00 pm – Dan's parents arrive.  Contractions 2 mins apart, but for short (30 sec) duration.  We notified the Midwife on call (Laura) again.  She said to come in around 4:45.
4:45 pm – arrive at the birth center.  I am 5-6 cms dialated and almost fully effaced.  Dan and I got changed and I got in the tub.  It seemed to help the pain.  However, since the pain was getting progressively worse, it was hard to tell.  I spent a lot of time on my hands and knees in the tub.  It was hard on my knees, but it was the only somewhat comfortable position.  All the pain was in the front pf my belly, below my navel.
Periodically, the MW would check Owen's heart beat.  He was dealing with labor just fine the whole time
At some point we got out of the tub and moved to the bed.  I was then 10 cms with an anterior lip.  I knew there was pressure "down there", but I couldn't feel an urge to push.  It felt like I had to poop.  I think, partially, that's what was holding me back – I didn't want to poop in front of people.
10:00 pm – I got a shot of Nubain (narcotic) to take the edge off.  The intended purpose was to get me to push effectively.  This was not to be the case.  All I could do was focus on the pain, not pushing.
11:30 pm – We left the birth center to go to AGH (hospital).  That was the worst car ride ever!  We made it upstairs by midnight.  By 1:00 am I had my epidural and I slept till about 3:00 am.  At some point they gave me pitocin to augment the contractions.  Owen was starting to have decelerations in his heartbeat, but nothing serious.
3:00 am – After having slept for a bit, I felt ready to push again.  So I did, for another hour or so.  The MW was sitting on the end of the bed with a funny look on her face.  I knew he just wasn't coming out that way.   We all agreed a c-section was the best option.  So, we prepped for it.  I got more drugs, Dan and the MW got dressed.  They wheeled me into the OR.
5:08 am – Owen was born.  He started crying with only his head out.  His apgar scores were 9 and 9.  Big and healthy.  I only got to see him very briefly.  I sent Dan with him to the nursery.  While they were stitching me up, both the MW and the OB told me that if I have another baby, and I don't go early, they are scheduling me for a c-section.  I think that's best.
Owen, 8 lbs 9.5 oz, 21 ½ in long – April 17, 2005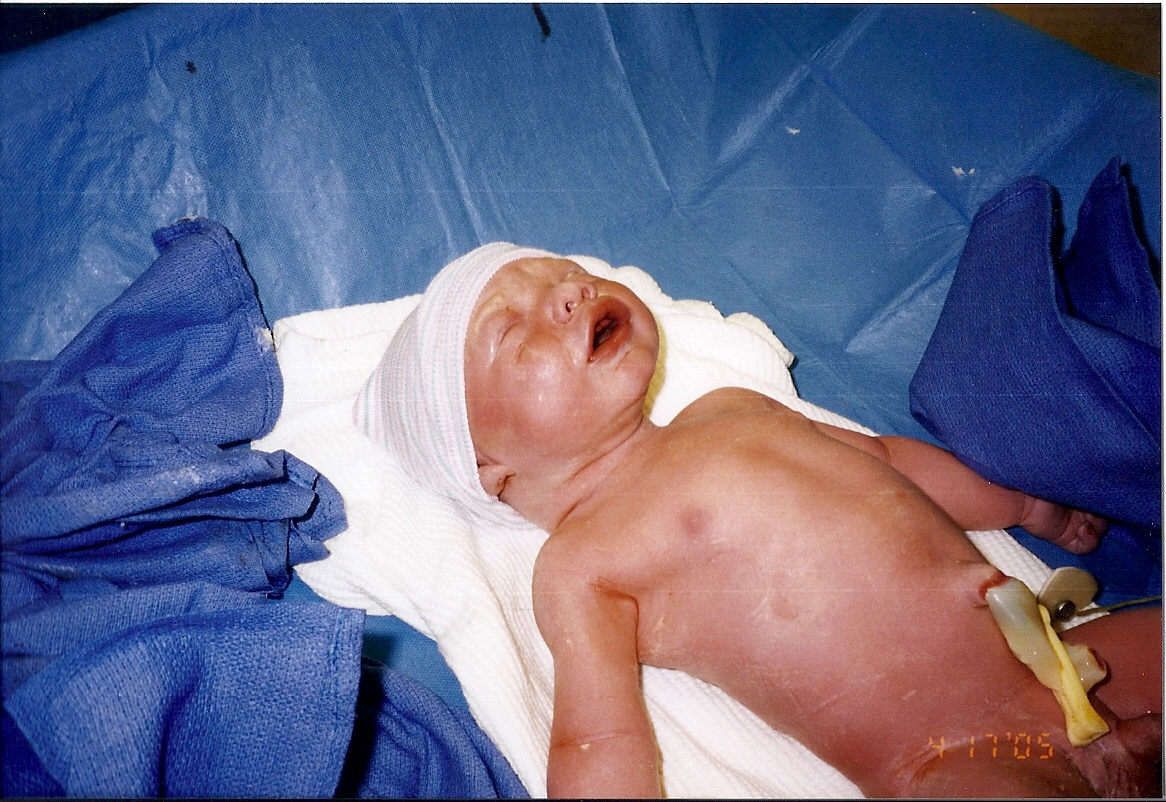 Hmmm…  So, that last paragraph stuck out to me.  Wow, even my Midwife told me to expect a second c-section.  I didn't remember that till I read it.  I didn't realize they didn't have faith in me.  Makes me a bit sad, actually.  Good thing I knew better by the time I got pregnant with Elaine!
Part of my inability to push Owen out was the fear of pooping – Ina May talks about that quite a bit.  Part of the reason he didn't come out is that he's just damn stubborn, and at almost 6, still is.  I think if I had given him permission to be born, he would have.  But I didn't know how to talk to him effectively.
Breastfeeding took 36 long and frustrating hours to establish.  I was too drugged from the morphine to try effectively.  He was too sleepy when they brought him to me 2.5 hours after birth.  My first thought was "This isn't my baby!  My baby can't possibly be blonde and blue-eyed!"  Then I fell back asleep.  By the time I ditched the morphine in favor of ibuprophen, he was hungry and cranky.  All the nurses tried something different.  I even had one try an SNS (supplemental nursing system) with formula in it(!) because he might starve to death and die…  When I finally saw a lactation consultant, she did magic, got him to latch and he didn't let go for 2 and half years.  After that first 36 hours, breastfeeding was a breeze.
My recovery from my c-section was arduous.  I had 3 numb toes on my left foot for 5 weeks postpartum due to the epidural.  I could barely stand upright for a month.  I had to have help doing daily activities and I'm very grateful to my mother in-law for moving in with us for 3 weeks and helping out postpartum.
My c-section recovery was the biggest reason I wanted a VBAC with baby #2.  I did *not* want to do that again.  Next post – I get my VBAC!