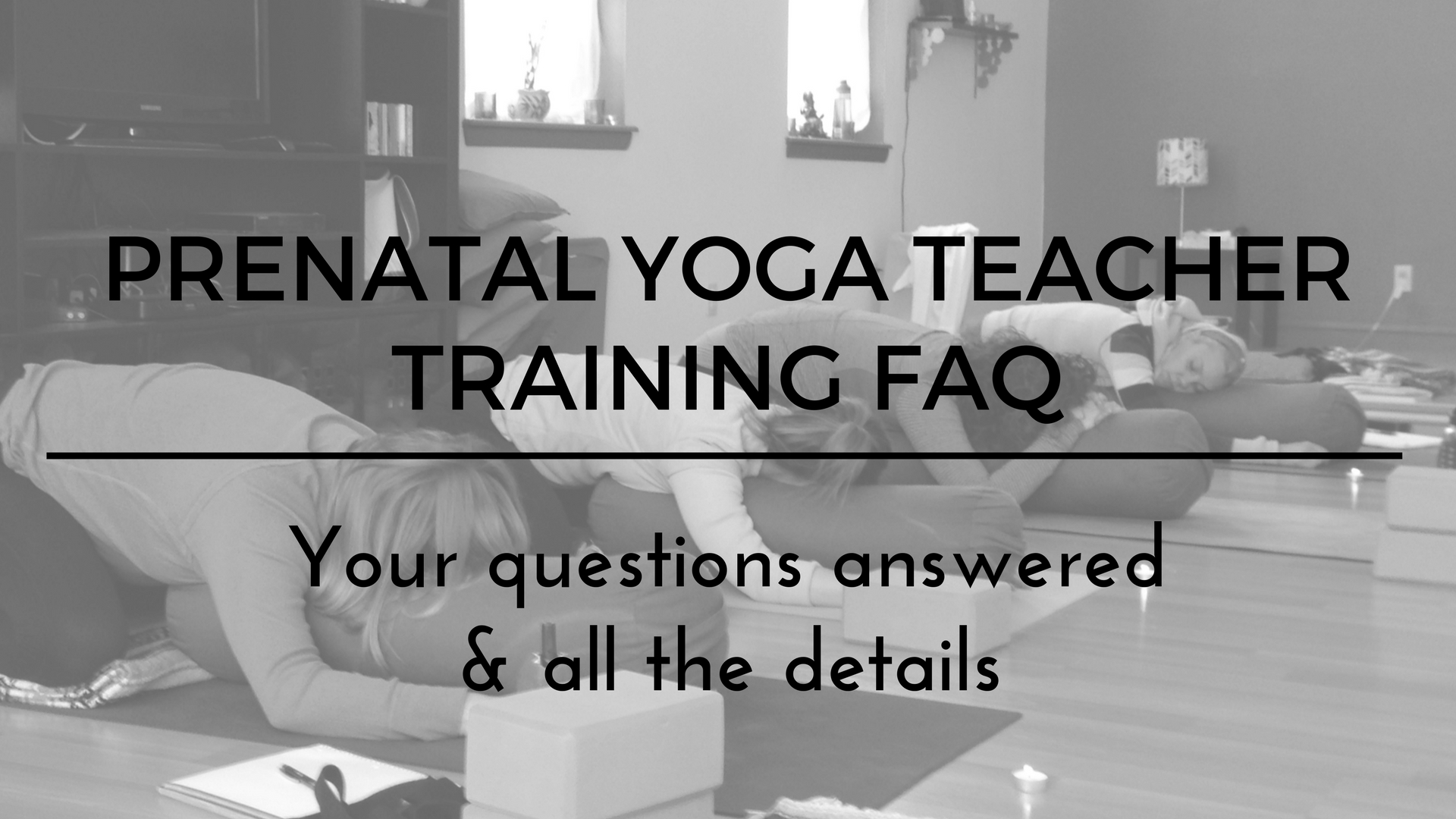 FAQ
I've never had children, can I still teach prenatal yoga?
Yes! There is no prerequisite of having children or ever having been pregnant to teach pregnant women. If you have the desire and the compassion to teach and the willingness to learn, you will do well. We'd love to have you join us in training.
I just had a baby, can I bring him to training with me?
Yes! Pre-crawling babies are welcome to attend training with you. However, if your little one is crawling and active, it'll be tough for you and the other participants to focus on training. So, we'd ask that you leave older ones at home.
I have a yoga certification through someone other than Yoga Alliance, can I still take the training?
Yes! Teacher from all yoga styles are welcome in this prenatal yoga teacher training.
I'm not certified to teach yoga at all… can I attend training?
Likely not, though there are some exceptions. A prenatal yoga certification is like a Masters to a Bachelors' degree. One must come before the other. You need to have a base knowledge from which to grow. The only exceptions would be for someone who is a childbirth or pregnancy professional already, such as a childbirth educator, doula, midwife, etc who has a long standing yoga practice as well. That person may take the training, but they will not be able to earn the RPYT status since YA requires a 200 hr prerequisite.
Will I get a syllabus from you?
Yes! Right now, we are fine tuning the syllabus. You can have all the details shortly!
What happens after the week long training?
You aren't finished yet. The in-classroom time is 65 hours. To earn the 85 hour RPYT from Yoga Alliance, you need to observe 10 hours of Prenatal Yoga classes. These can be done at Shining Light or at any other yoga studio which offers prenatal yoga. You'll need to get permission from those instructors, however. You will also need to do 10 hours of student teaching. If you are local, you can do that with us at Shining Light. If not, now's the time to set up community classes. Volunteer at a women's shelter, etc and get those hours in at home. We can make this happen for you and we are happy to help you sort out the details.
Required Readings
Must Read:
Yoga for Pregnancy: What Every Mom-to-Be Needs to Know by Judith Lasater
Iyengar Yoga for Motherhood: Safe Practice for Expectant & New Mothers by Geeta Iyengar
Bountiful, Beautiful, Blissful: Experience the Natural Power of Pregnancy and Birth with Kundalini Yoga and Meditation by Gurmukh
Inner Beauty, Inner Light: Yoga for Pregnant Women by Frederick Leboyer
Helpful to Read:
Taking Charge of Your Fertility: The Definitive Guide to Natural Birth Control, Pregnancy Achievement, and Reproductive Health by Toni Weschler
Giving Birth with Confidence: 3rd Edition, by Judith Lothian
Spiritual Midwifery by Ina May Gaskin
Ina May's Guide to Childbirth by Ina May Gaskin
The Thinking Woman's Guide to a Better Birth by Henci Goer
Preparing for Birth with Yoga: Exercises for Pregnancy and Childbirth by Janet Balaskas
Where's the rest of the info?
This sounds awesome! How can I sign up?
Other Questions?
Contact us! We are happy to assist you.