January 12 – 14, 2018, Pittsburgh PA
The next training date will be in the summer of 2018. Keep your eyes on the website for details!
There is something special inside of you that brought you to your calling. You seek a way to better the lives of mothers, their partners and babies. You seek to not only guide, but support women on their journey to motherhood. You have recognized the need for improvement in how we care for pregnant, laboring women and new parents.
You've also recognized that mothers and their partners need a good education and foundation about their bodies and the process of birth and becoming a parent. But it's more than that. You see the emotional and social side of pregnancy and birth in addition to the academic, practical side. You know that mothers need both a good education, with evidence-based information and the support from their partners, families, friends, doctors, midwives, and nurses.
You encourage effective communication between the mother, her partner and her medical staff to help her navigate her path to parenthood.
You believe that all women deserve to have a good birthing experience and that the definition of "good" will be different for each woman you encounter. You understand that women can give birth safely in a hospital, birthing center and at home. You respect a woman's choices for birth and parenting, even if they don't reflect your own.
You recognize there is inequity in how women are treated during pregnancy because of race, ethnicity, religion, income and education levels. You have a desire, no, a need, to help banish this inequity and will strive to correct this situation.
Here, with this Lamaze Educator Training, Deena and Ngozi will facilitate your transition so you can take that spark within you and turn it into a fire that ignites change, opportunity, comfort and satisfaction for the women with whom you will work.
Who should take the Lamaze Educator Training?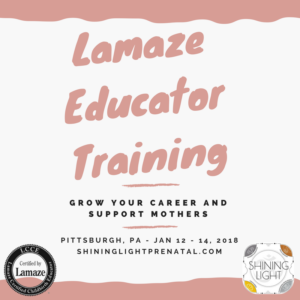 Doulas – Achieving your LCCE will expand your practice and allow you to provide comprehensive education and support for the women you serve. You will be able to diversify your income, thus reducing on-call time since you now have multiple revenue streams. This seminar awards you 22.0 DONA continuing education credits.
Nurses –By adding the LCCE to your RN, BSN, LPN, MSN or PhD, you will have better understanding of the psychosocial aspects of labor & delivery and the postpartum period. In doing so, you will be able to serve your patients in a truly holistic manner, body, mind and spirit. You will grow your skills set for labor comfort and breastfeeding support. This seminar awards you 22.0 nursing continuing education credits.
Obstetricians and Midwives – You do so much for the women in your care. Adding the LCCE to your credentials will round out the services you provide. You will be granted the perspective of the patient and increase your compassion for the women you serve as well as growing your skills set for labor comfort and breastfeeding support. This seminar awards you 22.0 nursing continuing education credits.
Yoga teachers – The LCCE adds an additional level of expertise to your RYT and to your RPYT. This is how Deena started, a yoga teacher first, the LCCE was added later. It not only boosts your credibility with the pregnant women in your classes, but it also expands your practice and allows you to provide comprehensive education and support for the women you serve. You will be able to diversify your income.
Mothers and Laypeople – You have no background in maternity care, yet your drive and desire brings you to service. Achieving your LCCE qualifies you to provide information on evidence based information, labor support and comfort techniques to your peers. The LCCE puts you on a satisfying career path and it can help move you to income self-sufficiency.
The nitty gritty details can be found on Lamaze's website. I've linked all the pertinent information for you here.
Lamaze Learning Guide – This is a must. Without the Learning guide, you will not pass your certification exam. It is recommended to purchase and download the learning guide before attending our seminar. The fee is $225
Certification Exam – The last step in this process is to pass your certification exam. The test is administered directly by Lamaze. The fee is $380 and it includes a 3-year membership, and all the benefits that affords, to Lamaze International.
Recommended reading list – Can be completed before or after attending the seminar.
Seminar Instructors:
Deena Blumenfeld ERYT, RPYT, LCCE, FACCE (program director)
Ngozi Tibbs MPH, LCCE, IBCLC
Fri, Sat, Sun, Jan 12 – 14, 2018, 8:30 – 5:00 each day
$50, non-refundable application fee PLUS
$600, if paid in full by December 12, 2017
$700, after December 12, 2017
OR Three payments of $245 each, last payment due January 1, 2018
Refund policy – The $50 application fee is non-refundable. A full refund, minus a $50 processing fee, is available up through Dec 1, 2017 for the seminar fee. Dec 2, 2017 – Jan 1, 2018, a 50% refund will be granted. After Jan 1, 2018 no refunds will be granted for any reason.
Now that you know you want to apply to become a Lamaze Certified Childbirth Educator, here are your next steps.
Click here to submit your $50 deposit. You can also pay in full or make payments with through the link as well.
Please fill in the application form below.
We'll see you in January!
P.S. – This Program travels! Contact us for more info on how to bring this program to you area.
D & N professional development mentors passionate people who want to better the experience of birth and parenting for all mothers and their families, by providing a universal Lamaze educator training and other workshops.