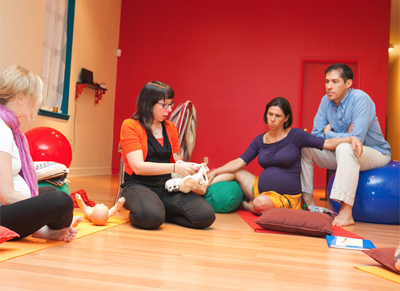 Continuity and community are the keys to success when it comes to preparing for pregnancy and childbirth. Continuity of service means having the same core group of instructors, with the same messages of openness, support and evidence-based information. Know that we at Shining Light Prenatal Education support all of our student's choices regarding their pregnancies and their births.
Community is found by taking the same sets of classes, with the same pregnant women (and couples) over time. When you find yourself in class with a woman in Yoga for Fertility and then you see her again in Prenatal Yoga, Confident Birthing and Meditations for Labor, it becomes easy to find common ground and form a friendship. That friendship often extends to baby playdates and outings. Many couples find that the friendships they make in their classes during pregnancy will last a lifetime.
So, please join us in class and begin your journey from fertility through pregnancy and into parenthood.
Have questions about our packages? Visit the FAQ for answers: Packages FAQ and The Fine Print.