This is a guest post by our Shining Light Doula, Amanda Guntrum.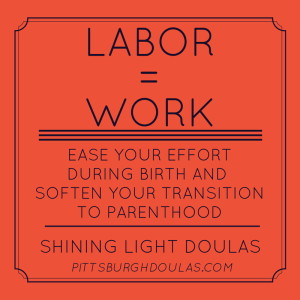 Here at Shining Light, we want to get to know our potential clients; and more importantly give you a chance to get to know us!  This is essential.  How can you sign on with a doula without feeling that you got a chance to "date around" before you commit?  That is why we offer everyone a 45-60 minute consultation with any doula duo absolutely free.
Consultations take place in our living room in the back of the studio where you and your partner can kick back on the couch and have a casual conversation with two doulas over coffee or tea.  Since a doula-client relationship is a partnership, it is important that we get to know you as much as it is that you get to know us.  We will ask you questions such as, "What kind of a birth do you want?" and "What made you decide to look into doulas?"  These questions are so that we can get an idea about what support you are looking for and if/how we can fill that role.  To have the most effective consultation, come prepared to talk about anything that you read and thought was cool, classes that you have taken, or even just things that you heard from your sister that scared you a bit.  These are all things that will give us some insight into what it will be like to work with you.
Consultations are also a great time to ask questions!  If you have any concerns that you didn't want to talk about in front of a group at our Open House, this is a way to get those answers.  Ask us about our training, education, and experience!  Ask us about our passions.  Ask us about our role at a birth.  Ask us any question that you think would give you the information that you need to decide if we would be a good fit for your family.  I included a list of common questions below just in case you need some inspiration, but you are absolutely not limited to these!
After 45 minutes of chatting, if you are interested and think that we would be a good fit, then we can pull out the contract and go over any questions that you may have about it.  You can sign with us right then and there, or take all of the information home with you and think about it for a few days.  This is a big decision and we absolutely understand if you need to mull it over.  If you think that Shining Light is amazing, but the doulas that you are meeting with aren't your cup of tea, no big deal!  Simply call Deena after the meeting and set up free consultation with another pair!
Questions to ask:
What is your philosophy about childbirth?
How do you support women and their partners during labor?
How do you support women before and after childbirth?
What experience do you have? Do you have experience related to my specific circumstances (as in a VBAC, twins, etc)?
Have you worked at the hospital/center that I am using before?
What coping techniques are you familiar with? Are you familiar with the method that I am using (Bradley, Hypnobirthing, etc)?
How do you handle it when things do not go to plan?
What kind of breastfeeding support can you provide?
Tell me about your best experience as a doula. Tell me about your worst experience as a doula.
Questions to ask yourself:
Do I feel at ease around these doulas?
Are they knowledgeable?
Do I like their personalities?
Do they communicate well? Listen?  Support my choices?
More important than any training or experience is whether or not you like your doula.  If you can't stand her when you aren't in labor, then you definitely will not want to have her around when you are.  Conversely, a calm person that you find reassuring will be an asset even if she has never set foot in that particular hospital before.  When in doubt, go with your gut!  Our next Open House is on October 23rd at 6:30 PM and is a great time to meet and chat with all of the doulas.  This is a great way to pick the pair you would like to have a consultation with first!
Learn more about Shining Light Doulas