This is a guest post by our doula, Amanda Guntrum. 
If you have picked up a book on labor or attended a birth prep class, you probably have come across the term "mindfulness." When I started studying for my doula certification I came across this term often, but having no background in meditation I merely gave them a passing nod as part of the jargon of birth work. As I have become more experienced, I have started really analyzing these concepts and why we doulas and childbirth educators bring them up so much.
Mindfulness: the quality or state of being conscious or aware of something.
In this case, that something is your own body and your own mind. This means to focus your conscious mind on your own senses and connect with your body.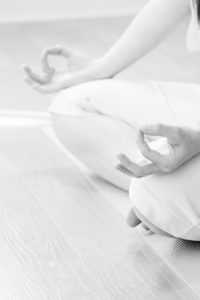 How are you feeling right now?
Do your limbs have the heavy dullness that is associated with being tired?
Or are you feeling a bubbling burst of energy that means your morning coffee is kicking in?
What do you see?
Can you feel a breeze?
In addition to connect physically to your body, connect to your mind.
What are you feeling right now? Are you worried about something? What does that feel like to you?
For me, worry feels like a tight squeeze in my chest. Joy is a lightening in my belly. Fear feels like prickly tingles in my arms and legs and a metallic taste in my mouth. Mindfulness is what it is to be you right now.
So why do we birth doulas care so much about "mindfulness?" We care because it can help you.
Everyone knows that contractions cause discomfort or pain. We can help you breathe through them. We can move or chant or grunt with you through your contractions. But short of an epidural – and sometimes in spite of an epidural – we cannot take the pain away from you.
What most women will find surprising, however, is that there are moments of pure relaxation between the contractions. The physiology of birth produces an amazing cocktail of hormones designed to enable you to get some peace and rest during your labor. Mindfulness allows you to find to these moments of relaxation. It allows you to be aware of what is happening just now, not what is coming, just what is in this moment. It also allows you to approach the pain or discomfort of contractions with curiosity instead of fear.
Where does the contraction physically happen? Are you able to still notice how your legs and arms feel? Does shifting your hips change the sensation? Did that make is more intense or subside a bit?
When I was still a new doula, I attended a long birth. The laboring mother had been in active labor for seven hours when she hit her limit. She was exhausted, but desperate to stay awake between contractions because she felt like they came one on top of the other if she slept. This is the reason why I practice mindful exercise with all of my clients now. No one should ever be fighting rest during labor. Laboring moms should try to accept all the rest that they can get.
So how do you practice mindfulness? There are a ton of mindfulness exercises out there. Breathing ones. Meditation ones. I, personally, am an active person, so my favorite one is "hands-on." It is washing dishes.
Now hear me out, I really don't care if your chores get done. Washing dishes is my favorite because it uses almost all of your senses and it is usually done after a meal, so if you are like me your mind will be mulling over the conversation you just had. Really pay attention to the tactile sensation of the water. Is it hot or just warm? Feel how it flows around your fingers. The sponge has a coarse texture. The bubbles are velvety. The soap smells clean and lemony. There is a window right over my sink, so I get to look at the breeze playing with the leaves on the tree. The silverware clinks on the plates. Listen to your body. Are you full or still hungry? Do your feet ache standing there? Emotionally, are you joyful? What does that feel like? Are you worried about something? Where do you hold your worry? It is a simple task, one that I have done dozens of times, but that is what makes it so good for this kind of awareness. So much is happening in these everyday moments.
Practicing mindfulness now will help you in labor. Try out several exercises – maybe doing dishes isn't the one that works well for you. Regular prenatal yoga classes can teach you mindfulness both on and off your mat. Have your partner or doula practice mindfulness with you, so that they can help you out if you get stuck during labor.  Mindfulness is an ongoing practice, not just a one time deal. The more you practice, the easier it will be to call on it when you need it.
Want to learn more? Check out our classes and resources that will help you become more mindful for your birth.